Mato Homola joins FIA Young Driver Excellence Academy 2013

Slovakia will have its young, talented FIA ETCC driver Mato Homola on FIA Young Driver Excellence Academy. For this event, each country could nominate only one driver and this year Slovak ASN (SAMŠ) choosed current 2nd overall classified driver in FIA ETCC, Mato Homola.
Over the last years, there were many young and talented racing drivers who participated in FIA Academy, for instance Andreas Mikkelsen, Craig Breen, Kevin Abbring and Robin Frijns. This year FIA Academy will take part in Teesdorf, Austria on 21 - 24 of July. Participants will go through hard physical and mental tests, they will practice their driving ability and car control on dry and wet conditions, moreover there is some time set for teamwork and interpersonal behaviour. The main goals of this Academy is to prepare young drivers to achieve the pinnacle of motor sport, increase their skills in the area of driver and road safety, and actively promote the principles of safety, fairness and responsibility both on and off the track.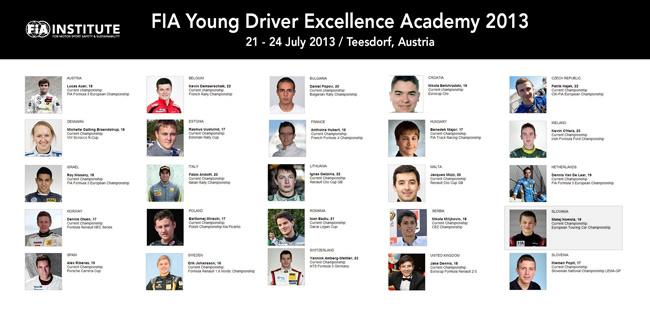 FIA Academy training programme 2013 will be led by two motor sport stars: Alex Wurz, former Formula One driver and two-time Le Mans winner; and Robert Reid, 2001 World Rally Champion.
Mato Homola is looking forward to participating in Academy: "I know about this Academy for a couple years and I always wished to take part in it. Therefore, I am very happy to be selected by Slovak ASN (SAMŠ) for this year FIA Young Driver Excellence Academy 2013 and I will do my best to represent Slovakia among other European drivers. I will work hard and I am sure that this Academy will help me to became better race driver."