Mato Homola goes big – he joins TCR International Series!
Rumours about Mato Homola's next racing season become true. One of the most talented and successful Slovak race drivers, twice European vice champion Mato Homola, goes big, as he joins a world championship series. In 2016, Mato will race in TCR International Series with SEAT Leon Cup Racer in the colors of the international team B3 Racing.
TCR International Series built its reputation just in a year, as Marcello Lotti, a promoter of TCR International Series, managed to take on board great race drivers such as Gianni Morbidelli (ex F1 racer), Pepe Oriola or Stefano Comini, who won the TCR International 2015.
Mato Homola will, therefore, come with his B3 Racing Team and SEAT Leon Cup Racer into 12 countries around the world. It all starts at the beginning of April in Bahrain circuit as a headliner of Formula 1 Bahrain Grand Prix 2016. Championship continues in Portuguese Estoril, Belgian Spa-Francorchamps and Italian Monza. The closest race to Slovakia will be Austrian Salzburgring on June 5th. Then German Oschersleben and in the beginning of July there is Russian Sochi planned. After that, Mato will fly to Asia, where TCR will drive along Formula 1 races in Singapore (Marina Bay) and Malaysia (Sepang). The season finishes at exotic race track Buriram Circuit (Thailand) and the grand finale is planned at Legendary Guia in Macau.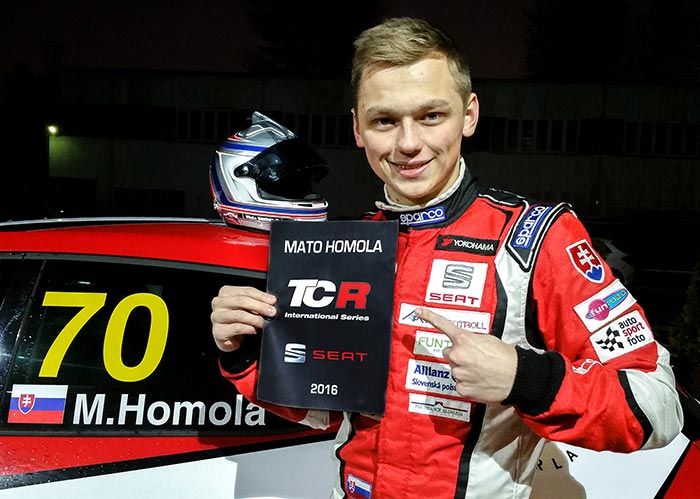 Mato Homola is extremely excited with high ambitions: "I'm very happy that we succeeded and managed this. At the end of the last season, we evaluated our options for 2016 and I was absolutely sure I wanted to move to a world championship. Progressive TCR International Series with a base of quality race drivers was an easy choice. Plus I am staying with my SEAT, so I can build on my experience with this car. My new SEAT Leon Cup Racer 2016 will be equipped with a brand new sequential gearbox, new body-kit, with bigger brakes etc. For me personally, this is an enormous challenge – new championship and many interesting new race tracks. My goal is to show what I know and successfully represent Slovakia. Even though I will be a newcomer in the championship, I want to win as much as I can. Me and my team are definitely curious how far we can go and how much we can achieve. I do have enough experience to win. I would like to thank especially to Marcello Lotti, Nunzia Corvino, my sponsors, my team and last but not least to my fabulous fans for believe in me on my way to the world championship. Without them, I wouldn't be saying these words today. Thank you."
Homola Motorsport